Whoop Whoop! First Sunday Social of 2014, I hope you all had a great new year!!!
I am actually taking down our Christmas decorations this week. My eye is on nice weather, and that really can't happen with Christmas hanging over my shoulder!
Now onto this weeks questions...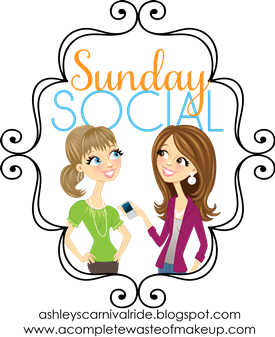 1. Do you plan to change any of your eating habits in the new year?
Well I reaaaaalllyyy would like to say yes, but I would just be kidding myself. I am too much of a fat kid at heart to stop eating (and drinking) the things I love. So that being said, I will enjoy my cookies, pizza and beer while millions of others attempt to "eat clean". Have fun with that ;)
2. Any workout tips to get us back in shape after the Holidays?
I love working out.... when I actually get around to doing it. I think if you start small, make it a part of your daily routine and go from there it is ten times easier than going all hardcore from the beginning.
3. What is your favorite thing you did over the Holidays?
With roman being 2 he really gets to enjoy Christmas now. Before I am not too sure he understood what was happening. My favorite part was him opening his presents, looking at it and casually discarding it while saying "I need more presents". It went on for days..... him saying "I need more presents", not the gifts.
OHHH and I really liked using the whole "Santa is watching you" thing to get him to stay in bed for nap. Creepy but it worked.
4. What is something you hope that you accomplish in 2014 that you did not in 2013?
I really would like to have another baby. Josh and I want to have two kids and I really just want to get it out of the way (or at least before I am 30). Your body really doesn't bounce back as quick after 30... or so I am told. So yes, another child is on my agenda. Preferably a girl. I have so many baby dolls my mom has held onto in hopes of giving it to my future daughter. If I have a boy... I hope he likes playing house!
5. Name 3 things happening this year you are excited about and why.
1) We bought a house..... no more apartments and noisy neighbors! I do miss calling someone to come fix the things that go wrong though. On the positive side of that, I am actually more handy than I thought!
2) I almost have made it through the "terrible twos"! Roman turns 3 in May. But of course once we are almost through this stage I hear three is worse than two.... and four is worse than three!! I will go ahead and guess five is worse than four?? Sounds accurate.
3) Roman is basically potty trained! This is self explanatory. :)
And there ya have it! Thanks for stopping by!!! Follow me on
Bloglovin
,
Facebook
, or
Google+
to catch my post later this week! Also, check out my other blog
RoLeeJo
for some cute handmade items for your littles. :)