Geesh is it already Sunday?! I had family in town this week and it has seriously flown by.
Either way, This weeks Sunday Social is about our blogs! Join the fun and link up by clicking the logo below!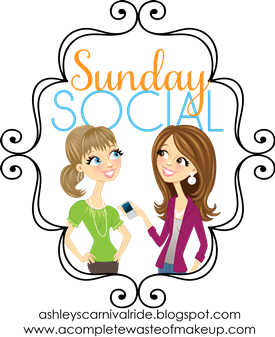 1. What is the name of your blog? How long have you been blogging?

My blog name is My Blogged Life. I started it back in 2010 when I was pregnant with my son, Roman.

2. Why do you blog?

I started it to be able to look back on the experiences I had being a first time mom. Now it has sort of transformed into a WTF is my toddler doing type of blog. ha ha. You really never know what will come out of their mouths!!

3. What is the first blog you ever followed?



The Bloggess

. She cracks me up! If you haven't had the pleasure of reading her ridiculously random and vulgar blog... I suggest you check it out!

4. What is your favorite post you wrote in 2013?

Probably

"It's Official"

..... Where I explain in detail my adventures with potty training. This is sort of a still ongoing process.

5. What are your blogging goals for 2014?

Hmmm, probably to set a regular time to blog. I'm a slacker.... Whoopsy!

6. Top 3 favorite blogs to follow?

Until lata my fellow bloggers!!!